A Guide to Leather Watch Straps
September 22, 2023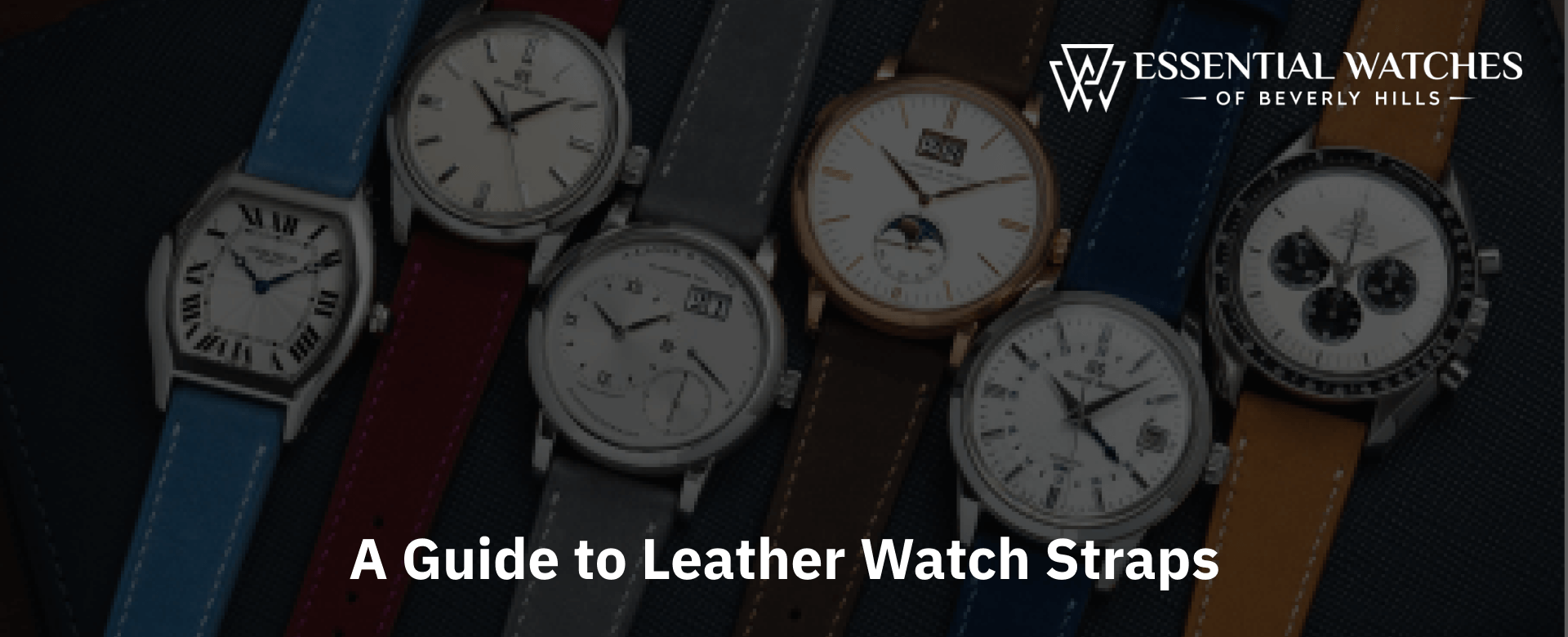 Everything you need to know about leather bands, from alligator to suede

A selection of high-end leather straps from Delugs
The strap is an essential component of a watch. At some point in your watch's lifespan, whether you're motivated by taste or necessity, you'll need to change your band. Faced with innumerable options, it can be hard to know what strap to buy. Worse still, it's easy to get taken advantage of when buying leather goods. The fact is that most consumers don't know much technical information about leather, allowing many companies to charge unreasonable sums for goods of
dubious quality. Even the highest of high-end brands obfuscate the origin of their leather products. This opacity can be the result of ever-changing supply networks, simple laziness, intentional concealment of undesirable facts, or a combination of all three. The following guid exists to help you make better informed choices to ensure you're choosing the best leather strap for you.

Construction
To understand what to look for in a strap, you first need to know how straps are made. Although construction varies, most bands are made of three parts: a top layer, padding, and lining. As the most visible part of the strap, the nicest leather is normally reserved for the top layer. The lining is the lowest component that sits against the wrist. Sandwiched between these layers is a padding material that gives the band shape and volume. Padding may consist of synthetic materials, leather, or both. Once the layers are glued together, they are stitched. The sides are normally painted to match the color of the top layer. As price decreases, manufacturers may cheap out on the padding and lining. The best quality straps will specify how a watch is padded and lined. Because the lining presses against the skin for long periods, the material should be comfortable and durable.

Animal
When choosing a type of animal hide, it's important to consider the style of watch with which you wish to pair the leather. For example, alligator leather straps are commonly associated with dressier timepieces and would look out of place on many sports or tool watches. On the other hand, a practical but slightly inelegant rubber strap would look incongruous paired with a dress watch. As a general rule, leather straps don't fit well with any watch designed to get wet. Even within leather straps, degrees of formality vary. Alligator and crocodile leather appear dressiest while suede and nubuck look far more informal.
Bovine Leathers
Bovine leathers are by far the most common in luxury goods. Within this category, there exist many more types than simple cow leather. Favored by luxury brands, calfskin is both soft and resilient. Bison is stronger and features a more pronounced grain than cow leather. Nubuck is a top-grain leather that has been sanded to produce a velvety texture. Like nubuck, suede has been sanded to create a fuzzy texture. Unlike nubuck, suede is produced using the lower part of the hide (corium), making it far less durable.
Goatskin, Pigskin, and Cordovan
The skins of several other domesticated animals are used for leather goods. Also known as chévre, goatskin is hardwearing and soft. Pigskin is as strong as calfskin but offers greater flexibility. Cordovan is a horse leather taken from the rear of the hide. The material takes months to process, but the result is a smooth, nearly indestructible leather that ripples rather than creases. This exceptional quality comes with a hefty price tag.
Exotics
Luxury good makers have used exotics for centuries for good reason; exotic skins are both rarer and more conspicuous than common bovine leathers, lending them greater desirability. Due to their wide, squarish scales, alligator and crocodile are the most recognizable exotics. For both, the most coveted part of the hide is the belly, where the scales are the largest. Alligator is a bit more expensive as it's generally considered to be nicer looking and softer than crocodile. Lizard hides are also common and feature a distinctive scaly grain, albeit with far smaller scales than their crocodilian alternatives. Ostrich leather is easily identified owing to pronounced bumps where quills once were. Leather from the ostrich leg features an appealing scale pattern that almost resembles reptile hides.


Tanned and dyed alligator leather sold by Rocky Mountain Leather Supply
Leather Quality
The quality of the leather is directly tied to the appearance, comfort, and longevity of a strap. Taken from the very top of the hide, full-grain leather offers the greatest durability and feel. Top-grain is second in quality to full-grain and comes from just under the top of the hide. Genuine leather and bonded leather are composed of leather scraps and the corium, the
weakest part of the hide. Buying full-grain leather is crucial if you want an enduring strap.



Leather tanning at Conceria Walpier, a famous Italian tannery
Tanning
The way leather is tanned is also important. Chrome tanning employs mineral salts like chromium sulfate to process leather. The product is soft and unchanging but may smell and feel artificial. Due to its affordability, chrome tanning is the most common method. In contrast,? vegetable tanning uses natural tannins to yield leather capable of developing a patina. Sometimes tanneries employ both chrome and vegetable methods in a process called combination tanning.
Dyeing
There are three main ways of dyeing leather. In dip or drum dyeing, the leather is fully submerged in dye for some time. Ideally, the leather is dyed completely through as the dye having fully penetrated the leather ensures lasting and consistent color. Hand staining can be a slightly more labor-intensive option and involves the repeated application of dye to the surface. If done correctly, the dye will fully soak the leather. Spray dyeing is the application of dye with sprayers. Sometimes a combination of methods will be used. For instance, a hide may be hand-stained and then sprayed. Aniline finishing refers to the use of translucent dyes, meaning the surface of the leather is not corrected with any pigment. This method is normally reserved for leathers of sufficient quality to not warrant any corrections. Generally, the best hides are dyed completely through and aniline finished.
Embossing and Patterns



The distinctive cross-hatched embossed pattern of Saffiano leather
Common embossing options include Saffiano, a cross-hatched grain, Epsom, a highly textured, almost pebbly grain, and pebble, a bumpy grain that roughly resembles stones pushed together. A pebble-like grain may also be achieved by shrinking the leather to enhance the natural grain or by tumbling the hide with small stones. Both processes yield soft leather. To circumvent region-specific regulations of exotic hides or reduce cost, alligator or crocodile patterns can be embossed onto bovine leather. While embossing may sacrifice the natural look of leather, it can also make hides more durable; variation in height makes leather less prone to scratching, and textures make blemishes and scratches less noticeable.
Stitching



Contrast stitching on an ostrich skin strap from The Strap Tailor
Stitching can make or break a watch strap. Fraying or uneven stitches will detract from a band's longevity and appearance. The type of thread is not always specified. Common options nclude nylon, polyester, and linen. Machine stitching is the most common option due to its cost. If you value artisanship and are willing to splurge, hand-stitched straps are available. Both methods can yield poor or good results depending on execution. Contrast stitching, where the color of the thread contrasts the color of the leather, can provide additional flair to a strap.
Shape and Size
Make sure the strap width matches the width between your watch's lugs. Both the strap purveyor and the company that makes your watch will provide this information. Some lug widths are harder to buy bands for. The most common widths are 18, 20, and 22 millimeters. Consequently, there are more strap options in these sizes.
The ideal length of a strap depends on the circumference of your wrist. You can measure this dimension with a tape measure or a piece of string and a ruler. It's necessary to allow excess material so you can comfortably make adjustments. While the average male wrist is around seven inches, the most common strap length is about eight.
Shape is another consideration. The shape of the strap includes the springbar configuration. Although most straps are straight at the meeting point with the case, sometimes straps feature a curved springbar that contours the case's edge. The other end can be pointed, gently rounded, or flat. Additionally, many straps are widest at the lugs and taper towards the buckle. The extent of the tapering is a matter of preference.
Replacing Straps
Replacing some straps or a bracelet will require a spring bar tool. You should consider going to a watchmaker to get this done to minimize the risk of scratching the case. If you opt to do it yourself, use a quality tool from a brand like Bergeon to avoid snapping parts and tape parts of the lugs most susceptible to scratches if you feel there is a serious risk. With moderate to strong pressure, compress the spring bar with the tool until the end of the bar moves out of the lug Hole. Do the reverse to install the new band. Some straps include quick-release spring bars.This useful feature allows you to replace a band without a tool.
Where To Buy Straps
The first option you should consider is the company that made your watch. This route is ideal if your watch is made of precious metal and you desire a matching clasp/buckle. If you want your clasp or buckle to have the brand name of your watch, you'll also need to take this option. However, the company that made your watch often isn't the best option for straps. Many charge a premium for the brand name, giving you worse bang for your buck. If you choose to buy from a third party, the following companies are a good place to start.
Hadley Roma
Hadley Roma offers a wide range of bands, from affordable, top-grain leather straps made in Asia to exotic and Hermes leather straps made in the United States. Considering the variance in styles and quality, pay special attention to the fine print to make sure you know what you're buying.
John Rousseau
Established over 60 years ago, John Rousseau has long been known for making some of the best straps on the market. The brand has the infrastructure to process raw hides, prides itself on hand craftsmanship, makes every product in France, and offers a wide array of colors, textures, and finishes. John Rousseau is also renowned for its bespoke services.
Worn & Wound
Known primarily for its content, Worn & Wound, recently branched out into accessories like other watch publications. The site is fairly transparent about where the leather is sourced and where the straps are made. Its rustic, premium leather straps provide excellent value for money and are backed up by numerous positive reviews.
Delugs
Although launched less than a decade ago, Delugs has made a name for itself for competitive pricing and exceptional quality. Delugs offers a wide array of premium leather straps and several brand/watch-specific options for Vacheron Constantin, Tissot, Cartier, and more. Best of all, almost every product page gives the tannery from which the leather is sourced–great news for leather aficionados. The brand's products have collectively accrued a 4.9-star rating based on 4388 reviews
The Strap Tailor
Based in London, the Strap Tailor boasts an impressive array of handmade and hand-stitched straps, from rubber to cordovan. Even more impressive is the company's 4.8-star rating based on nearly 2,500 reviews on Trustpilot. Like Delugs, The Strap Tailor is fairly transparent about the leathers it uses.
Write a Comment